5. Staying Safe and Managing Crises
Managing crises
Tips for managing crises
---
When dealing with a crisis, it is important to have a plan—and to be willing to follow through with it. For example, many families have difficulty calling for emergency services to deal with a crisis involving a relative with a substance use problem.
Consider the following scenarios:
You call your young daughter, who is at her father's home for a visit. He answers and you realize that he is drunk, but he denies it. When you tell him that you are coming to get your daughter, he insists that he is taking her to the zoo as planned, and that you can't stop him…
Drug dealers arrive at the door demanding to see your son. They claim that he owes them money and that they will come after him if he does not pay…
Your mother is trying to stop drinking alcohol. You hear a noise and run upstairs to discover that she is having a seizure…
Your sister calls saying how depressed she is about her substance use and what a bad mother she has been to her children. She says she feels hopeless and wants to die, and that her children would be better off without her. She tells you she plans to take a bottle of pills that evening…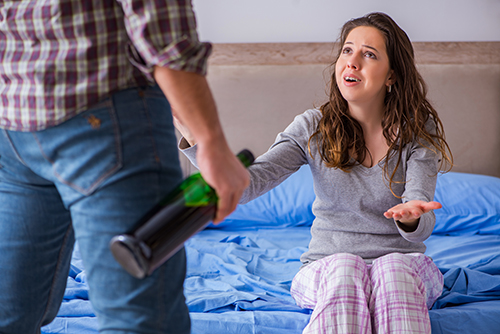 Your partner comes home from a bar and begins slamming doors, yelling and throwing objects. He is angry that you have not yet put the children to bed and accuses you of being a bad mother…
Your son calls to say he has lost his job and has not been making the payments on his apartment, so is at risk of being evicted…
Keep in mind that what makes one person feel unsafe may not make another person feel unsafe. Similarly, an issue that is a problem for one person may be a crisis for another. One person might feel that immediate action is required, while another family member may not believe immediate attention is necessary. There is no right or wrong answer—everyone reacts differently to situations.
Setting limits, as we discussed in Module 4, may help prevent conflicts from turning into crisis situations.